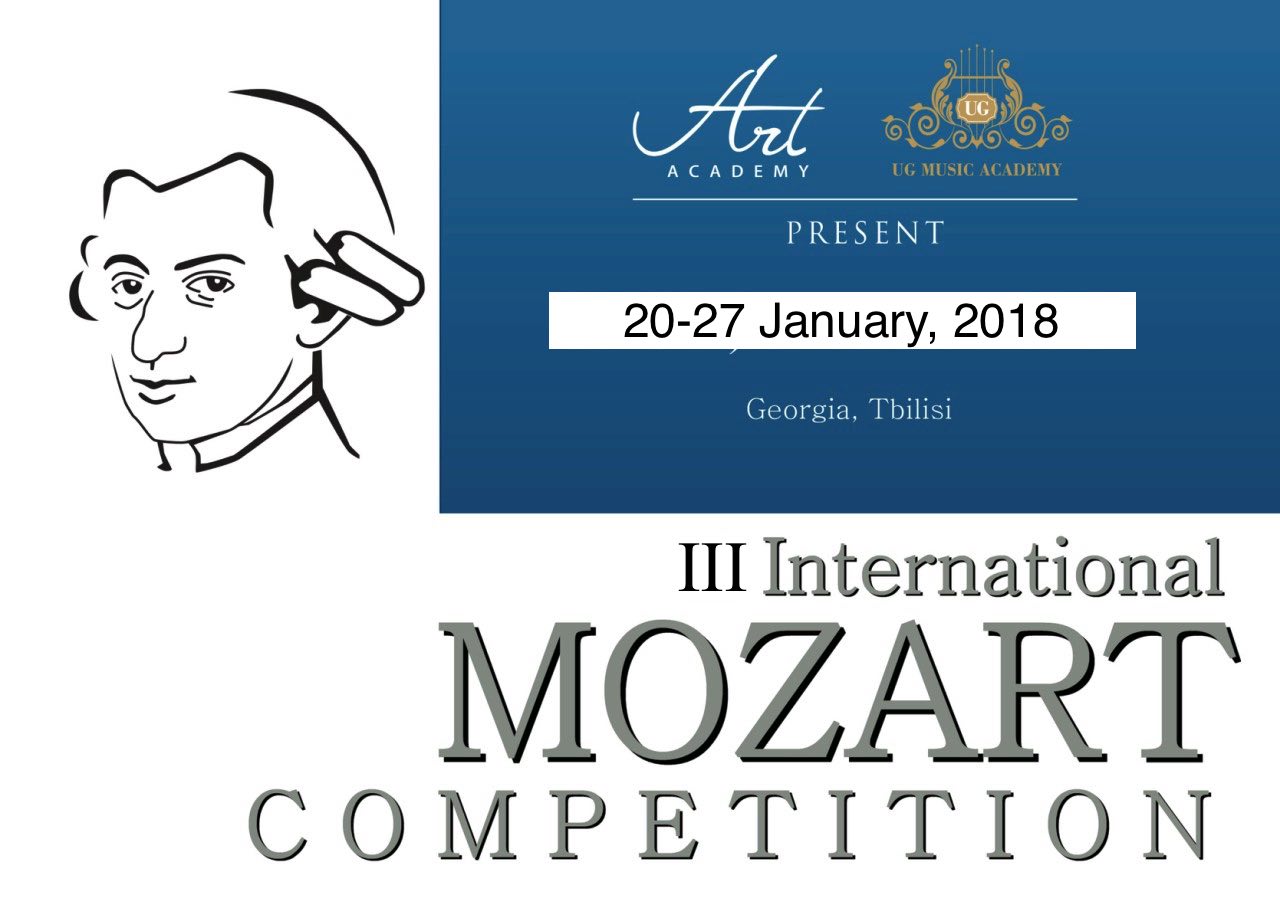 Mozart International Competition - Festival will be jointly conducted by the Art Academy and the Music Academy. The competition is open to citizens of any country.
​The competition will be held in the following specialties:
Piano Solo
Piano Duet
Piano Duo
Chamber Ensemble
String Instruments
Wind Instruments
Solo Singing
The sequence of participants is determined by the alphabetical order.
All winners must be present at the closing ceremony of the competition. The winners of first prizes and the Grand Prix should participate in the Festival concert.

Jury: jury has the right not to award prizes or to split prizes according to the number of participants. The jury's decision is final and will not be subject to appeal.

Age category:
"A" - 7-10 years inclusive
"B" - 11-12 years old
"C" - 13-14 years old
"D" - 15-16 years old
"E" - 17-20 years old
"F" - 21-25 years old
"G" - 26-40 years old
"H" - no age limit
"S" - 17-36 years old (Specialty "Solo Singing" only)
Participants must cover personally all costs associated with travel, lodging and meal expenses.

The program:
First round:
1. One composition by the choice of a competitor
2. Any composition of Mozart (separate movements of Sonata are allowed)
Second round:
Participants should repeat the Mozart composition they performed in the first Round.

Applicants must submit the following documents:
• Completed Application form
• Copy of Birth Certificate or Passport
• 1 color photo
• Short bio
• 90 Euro bank payment receipt

The amount should be paid on the account of Art Academy.
BANK ACCOUNT:
BASISBANK
Intermediary Bank: Deutsche Bank, Frankfurt/Eschborn, Deutschland
SWIFT: DEUT DE FF
Beneficiary's bank:
BASISBANK, Tbilisi, Georgia
SWIFT: CBASGE22
1 Ketevan Tsamebuli ave.
Tbilisi 0103, Georgia
Beneficiary: c/a "Art Academy of Georgia" Ltd
IBAN: GE29 BS00 0000 0077 4361 96

Applications should be submitted to the Music Academy by January 5, 2018

Address: Kostava st. 77a
Tbilisi, Georgia
Tel.:+995 591 25 55 00
+995 32 140233
E-mail: mozartcompetition@gmail.com